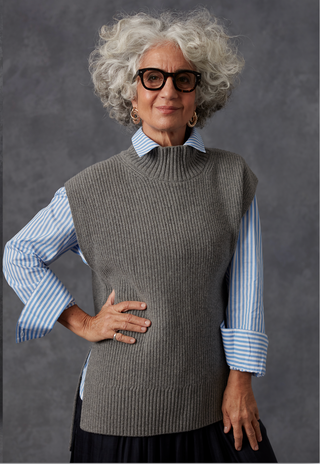 WHY DID I CREATE THIS LINE?
After deciding to embrace my grey hair in 2015, I radically changed my career from Market Researcher, to become a Grey Hair Model, Ambassador and Pro-ageing Influencer. (Yes, almost in my 50's!)

It was then when I decided to create Silvina London, after finding other products for grey/ blonde hair left my hair very dry and were full of nasty chemicals.

Silvina LONDON nourishes and hydrates grey hair, enhances natural silver shades, and, thanks to its gentle blue pigments, brassiness is banished.

It aims to make people proud of going grey.

I have been using the line every day (yes, I wash my hair every day!) for more than 2 years, and my hair never looked and felt so good.

I personally encourage you try Silvina London. I trust you will love the shampoo and the conditioner, as most of us in the Silver Community do.

Wishing you Great Silver Hair Days,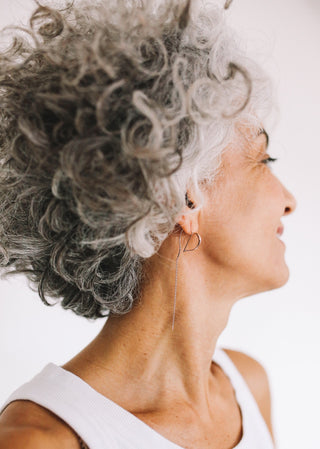 Why did I call it Silvina LONDON?
When I decided to embrace my grey hair, it felt incredibly empowering and I want other people to do the same! 
I called the line Silvina LONDON, as Silvina is my real name, and almost contain the words "Silver".
I also wanted to personally endorse the brand, as I created it having in mind our Silver- haired people needs and hair goals.
I was born in Argentina, (Argentum= Silver. Another happy coincidence?) and London has always been my inspiration.
Silvina Neder, founder
WHAT I WANTED FOR OUR GREY HAIR?
Grey hair care has to be easy
We want to solve the need to experiment with blue tones dosages, product mixtures, andf have all grey hair cover with one line.
New Grey Hair styling and treatment products are comming soon.
Grey hair products have to be gentle
Products that leave a beautiful silver / grey tone have to still be nourishing, hydrating and able to use even when you follow specific care procedures like curly methods.
Grey hair care products have to be reliable
Now that we embrace our real selves, our natural look, we need to trust that our hair is looked after with best quality ingredients, in a simple and honest way.
GREY HAIR CARE HAS TO BE for everyone
Silvina LONDON can be used in very small quantities, which, together with the first quality ingredients, made the line a great value for money. It also can be used by every member of the family.